Lake Garda: 8 best places to stay [with map]
Lake Garda is a popular destination in the north of Italy that attracts millions of visitors every year. With its fascinating landscape and rich culture, Lake Garda offers many beautiful places to discover. Whether historic towns with impressive castles and fortresses, idyllic peninsulas with clear waters and olive groves or charming towns with colorful houses and narrow streets, Lake Garda has something for everyone.

Have fun with our overview of the most beautiful places to stay on Lake Garda.
Hi! Wir sind Biggi & Flo
Wir nehmen dich als Vollzeit-Reiseblogger mit zu den schönsten Orten der Welt!
Werbehinweis: Alle mit einem * markierten Links sind Werbelinks.
The most beautiful places to stay on Lake Garda at a glance
The most beautiful places to stay on Lake Garda on the map
On our interactive map you can find the most beautiful places on Lake Garda:
1. Sirmione
Sirmione is a peninsula on the southernmost brink of Lake Garda. Every time I'm at the lake, I just have to go there. You enter the town over a little drawbridge – this alone always takes me back to all the times I've been here before. Visiting the castle ruin (Castello Scaligero) is a must for me, as well as climbing its old towers from which you have a fantastic view over Sirmione and Lake Garda. The castle dates back to the 13th century and can now be visited as a museum.
The journey continues through the small alleys of Sirmione itself. And every time, there's something new to discover, from trinkets in tiny shops' windows to new ice cream flavours. Speaking of ice cream: don't forget to grab one of the giant scoops of ice cream in Sirmione! Maybe it's because it's even warmer in the south of Lake Garda, but the ice cream in Sirmione is definitely my favourite.
Sirmione is a spa town at Lake Garda. Did you know that the biggest private thermal baths of Italy are in Sirmione? One of them is the old roman thermal spa of Catull. The thermal water is said to have healing properties. It's supposed to help with skin diseases, rheumatism and even hearing loss.
I personally enjoy hiking all the way around the town. For details on this subject, take a look at our article on the hike around Sirmione. Starting from the city centre, you will find the beach on your right-hand side. From there, you can go around the town on a paved street which later turns into a trail. This route will take you along the water, always with sand under your feet.
For me, this is the ideal way to leave all my cares behind. I use this time to dwell on my thoughts, sunbathe and take a break from everything. Because usually, there aren't many people around here. Most of the tourists seem to be too lazy to take on the hike.
My hotel tips: A good address in Sirmione is the 4-star Hotel Ideal (check price here*), surrounded by an olive grove and located directly on the beach. The Villa Cortine Palace Hotel (check price here*) is even among the top accommodations on Lake Garda. The 5-star hotel is housed in a stately villa and is located near the Caves of Catullus. Also recommended is the luxury resort Grand Hotel Terme (check price here*).
2. Limone
Whenever I think of Lake Garda, the small town Limone immediately comes to my mind. Its lemon groves, the fresh scent of lemons and lemons painted on the walls of the houses. I think of Limoncello and of lemon soap. There's a lot of all that in Limone. My tip: try taking the small winding steps through the old town all the way up to the top until you reach the big city walls. Through its holes and slits you are closer to the fresh lemons than anywhere else, and they are just waiting to be picked!
But as it might be a little unsatisfactory just to walk alongside the high walls, I recommend you go to the Hotel Splendid Palace. Its terrace rewards you with a divine view over Lake Garda, the lemon grove, the lemon trees and you can treat yourself to a coffee. As soon as you've recovered from climbing the hill, you should be ready to return to the town's alleys. And don't forget to buy the Limoncello!
My hotel tips: A nice place to stay in Limone is the 4-star Hotel Caravel (check price here*) with a great outdoor pool. Even more luxury awaits you at the EALA My Lakeside Dream (check price here*). In the 5-star hotel you can dream away in the infinity pool.
3. Bardolino
I remember that during my first stay at Lake Garda, a small travel agency recommended I go to the ice cream parlour Cristallo in Bardolino. And let me tell you, I did not regret it. The ice cream there is simply d-e-l-i-c-i-o-u-s. Every single time, I sit there with my ice cream cone and look at the many colourful boats that are moored to the quay. And that's when I realize that you don't need a lot to be happy.
Apart from that, it's also worth walking through the alleys of Bardolino, going out for a nice dinner – I've done that and can highly recommend it – and just wandering about. And of course you have to drink a glass of Bardolino. Or at least take home a bottle.
In case you're interested in olives and olive oil, you shouldn't miss the museum in Bardolino. It's called Museo dell'Olio d'Oliva and tells the story of Lake Garda and the olives that are cultivated there. It's definitely worth a visit! Another pretty and modest sight is the church Chiesa di San Severo. It's quite simple yet displays a very special charm. As you can already guess from its stone façade, it's one of the oldest churches in the region: the Romanesque building stems from the 11th or 12th century.
My hotel tip: In Bardolino, I recommend the modern 4-star Hotel Solho (check price here*) with a beautiful outdoor pool.
4. Riva del Garda
As you probably know, we're always on the lookout for the highest places with the best views. In Riva del Garda, that would be the Torre Apponale. It's on the Piazza III Novembre and 35 metres high. From the top of the tower, you have an amazing 360-degree view over the old harbour, the water castle Rocca and the Palazzo Pretorio. The tower was built to defend the city and its harbour – and it offers the perfect backdrop for your Instagram picture (just saying ;-). You can climb it from March to October.
You can also visit the castle, which houses the Museo Civico. If you're interested in paintings and archaeology, that's the place to be. And if you happen to be an avid mountain biker, you might also enjoy Riva del Garda: there's even an annual Bike Festival.
My hotel tip: Highly recommended in Riva del Garda is the Ecohotel Primavera (check price here*) with a great outdoor pool.
5. Lazise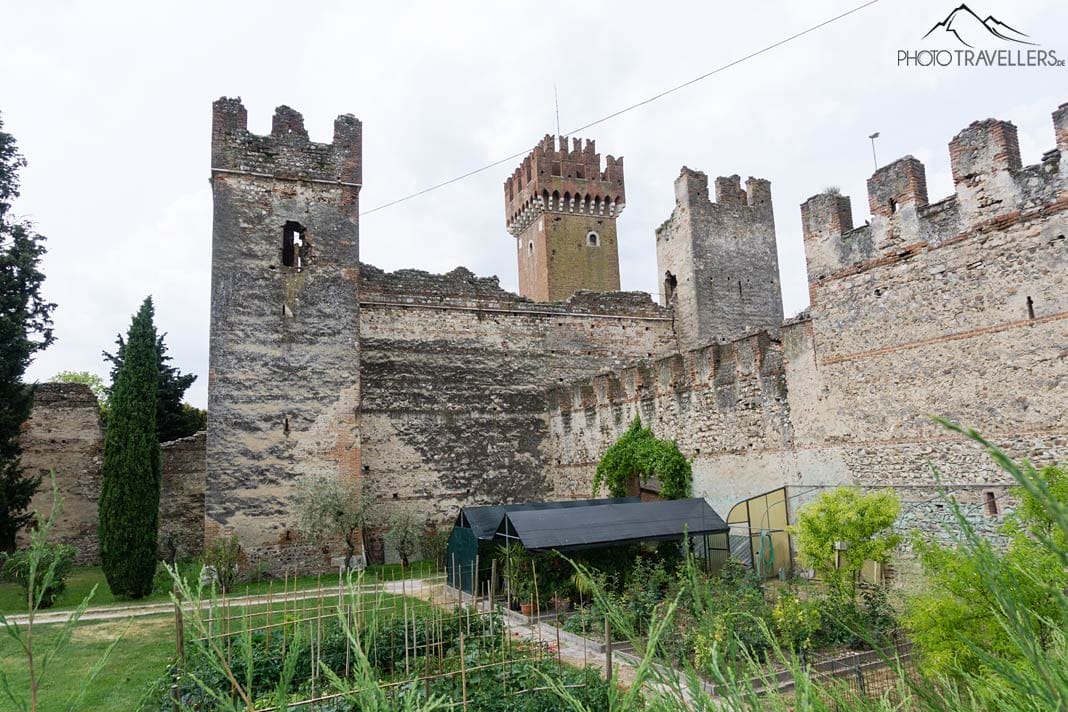 We were impressed by the special atmosphere in Lazise. You should choose one of the countless cafés on the central squares to rest for a little while. But don't miss all the fun in the little alleys!
You also have to take a photo on the Piazza Vittorio: its grey and white floor tiles make for a great photo background.
The next stop is the small harbour with its fishing boats and cute little houses. The parts of the old city wall and its big gates can't be overlooked – in fact, you have to walk through them to get into the city. Once, I also bought great Rosé wine in Lazise. I just always have to go back to that town!
My hotel tip: One of the best hotels in the town is the 3-star Relais Agli Olivi (check price here*) with outdoor pool and beautiful sun terrace.
6. Malcesine
Malcesine is another must-see town at Lake Garda. Our tip: if you love hiking as much as we do, Monte Baldo rises just behind Malcesine. The mountain ridge can be reached by cable car. Read more about the hike on Monte Baldo here.
Malcesine is especially popular with kitesurfers, windsurfers, and all kinds of water sports enthusiasts. If you're into that, this town is where you should be. One of Malecsine's most famous landmarks is the Castello Scaligero, the Scaliger Castle, from which you can enjoy gorgeous views over the town.  By the way, even Goethe was known to visit Malcesine and he is said to have liked it there, too.
The Plazzo dei Capitani, a Gothic palace, is also worth seeing. But in Malcesine, as well as in any of the other places we've shown you so far, it's best to just walk through the city, enjoy the atmosphere and just stumble upon all sorts of great sights. Two of these worth mentioning might be the churches Santo Stefano and Santi Benigno e Caro – two of the jewels of the town.
My hotel tip: In Malcesine, I recommend the Hotel Castello Lake Front (check price here*). The modern 4-star boutique hotel is small but nice and enchants every traveler with a magnificent view.
7. Salò
Even though the small towns around Lake Garda are all quite similar, each one has its own special bits and places. In Salò, for example, we were enchanted by the atmosphere. We could just wander about, be it at the beautiful harbour with its cute little boats or trough the historic city centre. Right in the middle of the town, you can't miss the cathedral of Salò, the Duomo Santa Maria. You should definitely take a look inside the Baroque building!
Our tip: directly next to the church, there's an ice cream parlour called La del Dolce. We had to go back for seconds because the ice cream was really that delicious. With the ice cream in hand, just stroll through the streets of Salò – what a treat!
My hotel tip: Located directly on the shores of Lake Garda, the 4-star Hotel Bellerive (check price here*) is one of the best accommodations in the beautiful town.
8. Arco
If you love hikes or via ferratas, you'll love the area around Arco. That's also where our favourite camping site is: Camping Zoo Arco (Website; Google Maps). You'll almost always find a free pitch there and a lot of your fellow campers will be hikers and climbers as well.
Arco is the ideal starting point for many great hikes. For example, we decided to hike all the way up to Monte Cadria and Monte Baldo and we can only recommend these tours. However, we didn't do a via ferrata here in this region. We're definitely planning on doing that though! Arco is also famous for free climbing. In fact, the international climbing competition Rock Master takes place here every year. Apart from that, Arco offers a lot of water sports such as kitesurfing and sailing.
If you're more into culture than sports, you have to visit all the old churches in Arco, as well as the Arco Castle. Another impressive location is the villa of Archduke Albrecht from the House of Habsburg. Furthermore, Arco is known for being an excellent spa town.
My hotel tip: I can recommend the 4-star Hotel Hoody Active & Happiness (check price here*) because of the jacuzzi on the roof with mountain view. You will love this accommodation.
Numbers and facts about Lake Garda
Lake Garda occupies a surface area of 370 square metres
Lake Garda is almost 52 kilometres long
There are five islands in the lake
The highest temperatures are reached in July
In September and January, there are the fewest rainy days – just five
Hotels and camping sites are normally open from the end of March to the beginning of October
During the winter months, a lot of hotels and restaurants are closed
Have fun on your trip to Lake Garda
We hope that by now, you will feel like visiting Lake Garda yourself and that this article helps you with planning your trip. At Lake Garda, you can't really go wrong because the whole region is just beautiful. The only disadvantage: there's almost always a huge amount of people. This is why we recommend avoiding bank holiday weekends and the holiday season in general.